Pacific NW 928
"Track Attack"
Date: Saturday May 12, 2001
Where: Spokane Raceway Park:
---

The Pacific NW 928 Owners had a great day at Spokane Raceway Park. Special Thanks to Scott Adare and all the other instructors (BMW CCA) who helped out. Also an extended thanks to David Schmidt for setting up the day. Everyone had a great time and had more than enough time on the track.

Here is what David had to say:

On Saturday, May 12 the PacNW9289 group (an informal group with NO officers,
dues or other distractions) got together for a Test and Tune day at Spokane
Raceway Park.

The *first* thing that has to be said is "Wow, what a neat group of people."

The weather was wonderul on Friday and Saturday. Folks drove in from the
Portland and Seattle area and we had arranged to have dinner together at a
Tex-Mex restaurant across from the Travelodge where some of the folks
stayed. Everyone made it to dinner except Don Hanson who had gotten a late
start and Heinrich who was unable to make it because of mechanical problems
remaining on his shark. (Heinrich stayed up till after 5AM Friday morning
to get his intake back on only to find another problem with no time left to
acquire the part.)

After a fun meal with everyone we all headed to get some sleep. I had two
folks staying with me (Pat Edwards and Adam Birnbaum). Chris Ford and Tom
Middleton also wanted to come up for a while to watch some videos of Don
Hanson's high speed runs I had borrowed so we had 5 sharks in a row heading
for my place (at the speed limit).

By the time we reached my house we had acquired another set of headlights,
which I had assumed was just a neighbor. Turns out it was a guy driving a
souped up Toyota who was looking for a race, and he figured that by
following 5 928's he was going the right direction! We notified him that we
were saving the high speed for the track the next day and he went on his
merry way.

We stayed up till about 1AM watching car videos and talking cars. It was
good to get to know Pat a bit better as I'd only met him briefly at the last
DE at PIR. I'd been watching race videos so much I had trouble falling
asleep with all the race footage running through my mind.

The 5AM alarm came all too soon. A quick shower and then the guys helped me
swap wheels to the ones with my older, track tires. We then packed up all
the drinks I'd purchased and headed for breakfast with a quick stop by the
gas station. We got a few comments with 3 sharks pulling up at once.

After dropping Pat and Adam off at breakfast I proceeded to the track to
help get things set up. Don Hanson was already there along with one of our
"host" drivers, Bill Simer. (Scott Adare had arranged to have some folks
available to ride along with anyone that wanted some local track
instruction.) Scott and Steve Cassel arrived shortly thereafter and by the
time we had gone around the track and gotten the cones placed the rest of
the gang had arrived and the paddock was full of sharks (and a few 944
"cousins" we'd allowed to join in).

After a brief track meeting (and collecting of funds) we headed for the
track. We had warned everyone about not staying on the track too long
because of the fatigue that can set in, and had planned on closing the track
periodically to make sure nobody was overdoing it. Instead, it seemed like
everyone had taken the advice to heart as most folks were doing 5-6 lap
sessions and coming in on their own. I never saw the checkered flag used
once to bring folks in.

We only had 13 Track Attack attendees (18 cars including our local hosts) so
I don't think we ever had more than 5-6 cars on the track at any time. I
ended up doing much shorter sessions because I was always able to get 5-6
HARD laps in with no distractions from slower/faster cars. The cars I did
(occasionally) manage to catch up to were going fast enough that I didn't
feel I was missing out on much. The few times the opportunity came up folks
were REAL nice about waving faster cars by (we were doing indicated passing
only, and only on the straights).

During the day we had NO off track incidents and the cars were generally
running quite well until late in the day when Adam Birnbaum's car started
making grinding noises going down the straight and he immediately pulled
over to the side. The red flag pulled all the cars off the track quickly
and we got Adam's car towed to the paddock. (Appears to be a drive shaft or
torque tube problem.) Chris and I both had leaking cam cover problems so I
sat out the last half an hour so as not to agrivate it.

Adam arranged to have his car towed to Chris's house where it was left and
Adam caught a ride back to Seattle with one of the other Seattle contingent.
Hopefully we can get his car back in full health (along with our own!)
quickly.

I have to comment on what a FANTASTIC group we have. I received comments
from EVERY one of our host drivers and from the track operator about how
well behaved all our drivers were. They had been REAL concerned about
having a group of high-horsepower cars like ours along with a number of
first-time track drivers. That, as much as the track time, made this just a
fantastic event. I was told that we'd be welcome to arrange another event
like this any time. I told Scott perhaps we could make it another PacNW928
annual event and he replied "how about another one in October?" We'll see!

Car comments? Well, my GT drove great all day, even as it started leaking
oil from the cam cover. I was taking only 1-2 laps per session as I tuned
in the tire pressure but then proceeded to do 5-6 lap sessions. Brake
heating/fade was an issue for my car as I'm running stock pads/fluid and
brake bias. I had one incident where the pedal reached the floor coming
into the degree sweeper at over 120. Luckily, it's an easy sweeper and the
car stayed right on track. I'll have some in-car footage on my web site as
soon as I have time to capture and convert it.

Don Hanson was there with his Black Devek Stroker. All I can say is "WOW".
Looks and sounds wonderfull!

Pat Edwards "Predator" was also sounding great out there and Pat looked like
he was having fun. Hopefully he'll share his video footage of me as we
shared a few laps together, trading places about halfway through.

Tom and Adam's black cars were hard to tell apart out there, until you
caught sight of Tom's FAT tires and slightly rolled rear fenders. They both
looked good.

I caught site of Rob Fossett racing past entering the straight a few times
and he was looking like he was enjoying himself. He had some transmission
heat problems so I hope he got a chance to get enough track time. I offered
him some time in my GT but got turned down (but saw him out there again
later in his car).

Welcome to Tom Blaesing who contacted me the week before the event and has
just joined our PacNW928 mailing list. He just purchased a silver, low
milage '81 Euro 5sp which had been sitting in a hanger for 17 years.

We had invited some of our 944 "cousins" to participate and Barry Woods and
John Hassel were out with their 944 turbos. I really like John small track
trailer that he tows behind his 944.

Terry Thomas and Dennis Wilson were driving matching white S4's and it was
hard to tell who was who out on the track.

Hopefully I haven't forgotten anyone. My appologies if I have, but there
were just so many nice sharks out there!

I look forward to doing some more of these in the future, and from the
comments I received we'll have no problem arranging for the track or hosts.
I want to give a special thanks to Scott Adare. I couldn't have done this
event without him. Period. I just did the e-mail coordination and some
incidentals like food and drinks. Also, thanks to the 5 other locals that
showed up to help show us the lines. I hope we shark owners didn't tease
you too much!

Way to go, PacNW928!

David Schmidt
'90 GT, Guards Red, RMB
http://www.tower-mt.com/
---
PICs:
At the Track........

MAP of the Track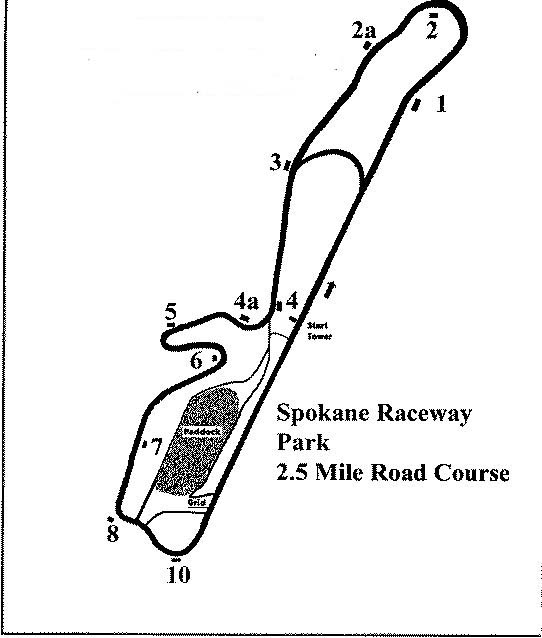 ---
---
If you have comments or suggestions, email davids@tower-mt.com
Modified 01/22/2002