A day at Louis' Place
Tom Middleton says:
Plan was to get to Adam's place by 7:00AM which meant leaving home around 6:00am. Car fires up with the sound of Louis' custom X cross-over reverberating off the walls surrounding my driveway. (So far none of the neighbors has said anything.) Head out to the I5 about 2 miles from my house--just enough time to warm things up. The entry ramp consists of a short ramp through a tunnel and then a long straight merging into the left lanes of the 5. Get into the tunnel and step on it just to hear that music... Come to the top of the ramp about to do a little acceleration test but a quick glance to my left and I see flashing blues on the northbound side... I ease off the pedal and take a peek to see who the poor soul is... I recognized that silhouette instantly...a silver 928 S4!!! Anyone heading north on Feb 18th on the I5 at 6:00am want to take credit?????? I am thinking I had better take it easy as I don't want the 928 to get a reputation with the Wash. State Patrol!!! Get to Adam's place without any problems. We load up his car and hit the road again. Adam's car is a carbon copy of mine (Black/Black S4 AT) down to the "incorrect" placement of the rear S4 sticker... Very weird to climb into the passenger side of someone else's car and feel somewhat at home... The plan was to do some Shark Rally mapping down in the Portland, Oregon area with a quick stop at Louis Ott's place to install one of his custom manifold back exhaust systems... The trip down was entirely uneventful and was done in record time. Got to Louies around 9:30 ...a full hour before we were scheduled to be there....Louis greet us and then invites us into his garage...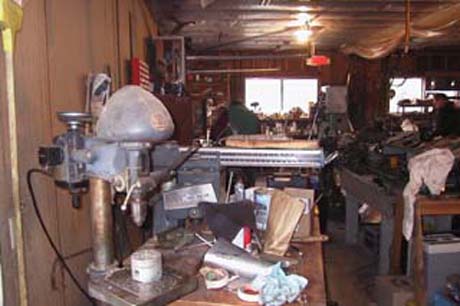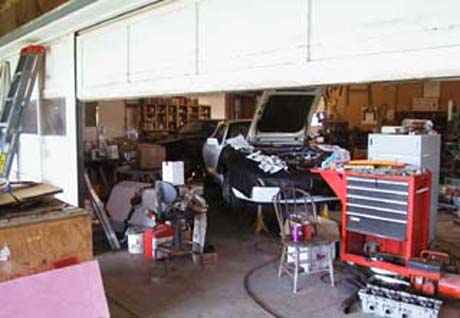 Actually it's more of a shop since it is big enough to hold 4 cars!!! First thing I notice is Louis' GT up on jacks with the hood up. All right, what's he up to now??? Well Louis explains that he wants to check his cam timing and of course while you are in there you might as well take care of a few other things....(haven't we all done this before)....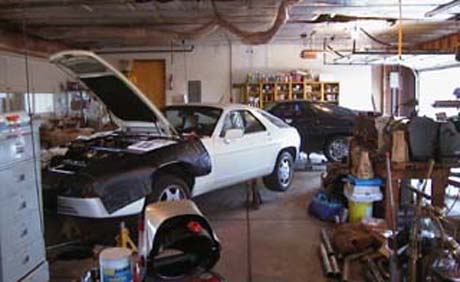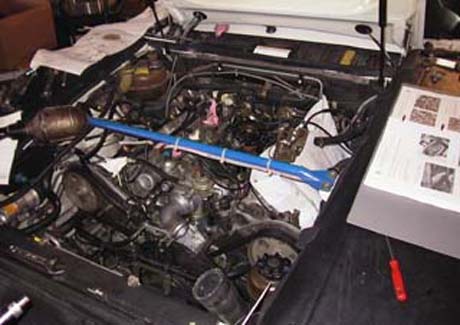 Looks like he is going to do the cam timing, R and R all the vacuum and rubber bits, refinish the cam covers and I'm sure more when he is done....Hope I don't get motivated enough to make my engine bay look like this ;-0 ....then again, it is quite an impressive block....... Louis moves out a car to make space for Adams car and we get to work.....In the mean time, Terry Redinger shows up to give a hand. Terry will be bringing the old exhaust system up with him in the back of his truck at the next dyno day (March 3rd). Terry's mint 89S4 is still in hibernation and won't be making it to the dyno, but as Terry told us-- it now sport the BIG REDS with new cross-drilled rotors all the way around....Can't wait to see them!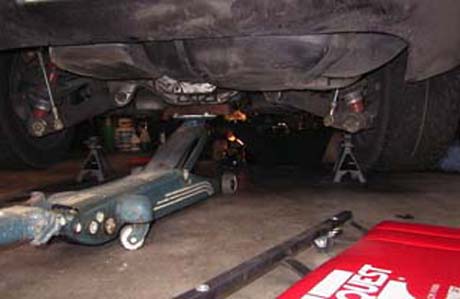 Up goes Adam's car and off comes the original exhaust.....In no time the old exhaust is lying on the floor and we take a peek at Louis' system....An awesome sight it is.....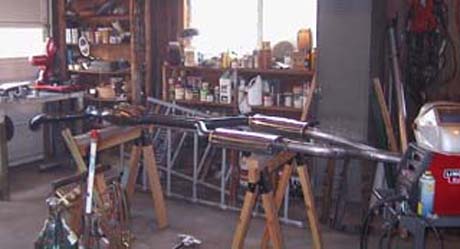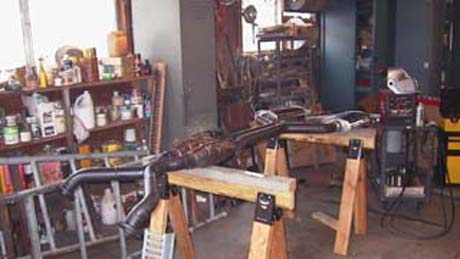 The system is comprised of Louis' custom X crossover, two small high flow catalytic convertors, custom fabricated aluminized steel (2.5 inch diameter) pipe and stainless Bullit mufflers. Louis has a jig set up that he used to build the system. It was tailored to his car but theoretically should fit all S4 variants....
While everyone was admiring Louis' system, I went back to peek at Adams old exhaust.....I noticed that the center mufflers were quite a bit smaller than the ones I have on mine. Louis came over to take a look and said without hesitation "those are GT mufflers".. It never ceases to amaze me all those little variations even within model runs....(Adam's is a relatively late model 88S4----With an always powered cigarette lighter too!). Louis said that he has a set of early 88 mufflers and a set of the GT mufflers hanging in the rafters out back....so out I go to get a pic....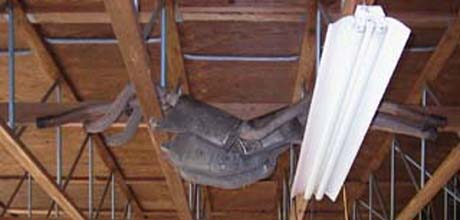 The GT mufflers are in front and the early S4 (87 and 88) mufflers are behind....Quite the difference eh?...I haven't had my center mufflers off yet, but the GT mufflers are very small and light. Another peak around Louis' shop and I feel like I'm at 928 Int'l (well not quite but close)...sitting in one corner is a set of Kinesis Super Cups!!, there is a box with an AccuSump ready to go!!!, a ported and polished S4 head on the floor!!!!, and in another box over in another corner a Vortech Supercharger with an intercooler and all the brackets and pulleys !!!!!.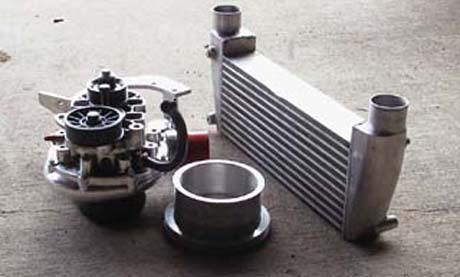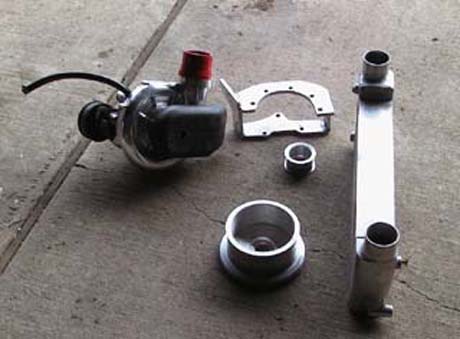 FOR SALE!!!!!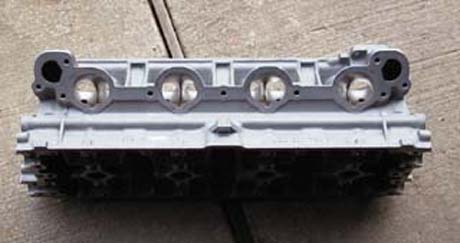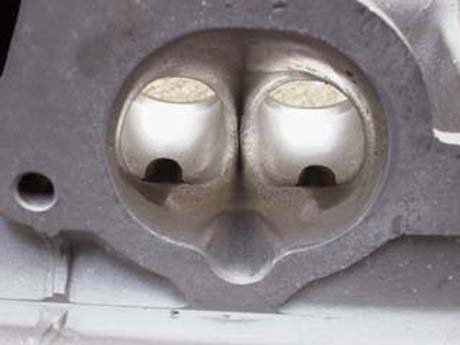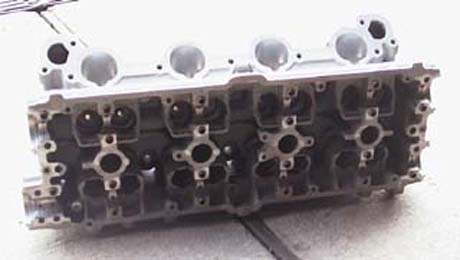 If you are interested in purchasing either the supercharger or the ported/polished head, send Louis an email....LOUISOTT@CS.COM
Oh yea, have to get back to work.......we did after all come here to put on the exhaust system. We take Louis' system and slide it under the car for a test fit..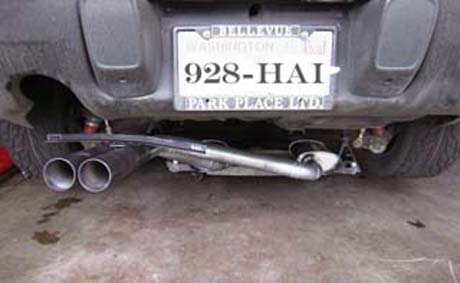 All seems to fit well and the system is bolted up. We start at the front and work back.... Seems to be a little tight around the rear transaxle.... Need to drop the system and add one inch of clearance to the passenger side muffler...Louis takes care of the problem in no time...welding in the section from some extra pipe laying around the shop. Louis had based the system on measurements take from his GT. Seems the Automatic transaxles are slightly larger.....
While the system is off, Adam starts to wonder what kind of tip he wants on the rear. He really liked the look of his RMB and just wanted to go the extra step to ensure fitting end to Louis' craftmanship. Well you get four 928 fanatics together and with all the talk of Venturis, Megaphones and the like on the rennlist, this is what we came up with. Base SOP dyno figures indicate at least 50 or 60 HP on the top end....Coming soon from Professor Louis Enterprises ..........the FMH Venturi Tip. That's FolgersMaxwellHouse for those of you that don't know 8-)....

Yep, we all got a kick out of that one..........Actually Adam's finished exhaust turned out very nice. It bolted right back up and everything fit nicely. Of course the batteries died in the camera so no final shots.......

Adam took the car out for a test run so we could fix any problems before leaving Louis'. As I was about to comment on how nice and quiet the system sounds, off in the distance we hear a BWAHHHHHHHHH (copyright Phil Tong) as Adam opens it up on some back roads. At idle and low speeds the system is very mellow but still has the sound of power. At wide open throttle the sound is just awesome......Phil Tong definitely got it right.........BWAHHHHHHHHHHHHHHHH. Adam comes back with that silly little grin we all get after driving the 928.....Then its in to the house sample some of Portland's best brew and talk more cars. Before long we realize it's 6:00 pm and time to go. So much for the mapping. Well there is always next week right? Adam you can do the driving as long as we take your car....;-)
For all you locals, Adam's new exhaust will be put to the test on March 3rd at the third Dyno Day. He's the first one on the rollers so get there early.......